Hawaii Senate Bill 862
SUMMARY: Governor Ben Cayetano signed Senate Bill 862 into law on June 14, 2000. The law took effect on December 28, 2000. The law removes state-level criminal penalties on the use, possession and cultivation of marijuana by patients who possess a signed statement from their physician affirming that he or she suffers from a debilitating condition and that the "potential benefits of medical use of marijuana would likely outweigh the health risks." Patients diagnosed with the following illnesses are afforded legal protection under this act: cachexia; cancer; chronic pain; Crohn's disease; epilepsy and other disorders characterized by seizures; glaucoma; HIV or AIDS; multiple sclerosis and other disorders characterized by muscle spasticity; and nausea. Other conditions are subject to approval by the Hawaii Department of Health. Patients (or their primary caregivers) may legally possess up to 3 ounces of usable marijuana, and may cultivate no more than seven marijuana plants, of which no more than three may be mature. The law establishes a mandatory, confidential state-run patient registry that issues identification cards to qualifying patients.
AMENDMENTS: No, although Hawaii has a separate statute allowing patients arrested on marijuana charges to present a "choice of evils" defense arguing that their use of marijuana is medically necessary.
MEDICAL MARIJUANA STATUTES: Medical Use of Marijuana, Haw. Rev. Stat. §329-121(2008). Through Haw. Rev. Stat. §329-128 (2008).
CONTACT INFORMATION: Administrative rules for Hawaii's medical marijuana program are available online from the Drug Policy Forum of Hawaii website at: http://www.dpfhi.org/
Application information for the Hawaii medical marijuana registry is available by writing or calling:
Hawaii Department of Public Safety 919 Ala Moana Boulevard Honolulu, HI 96814 (808) 594-0150
Learn More
OTHERSIDE FARMS specializes in closed grow room environments and offers grow consultations to qualified patients. OTHERSIDE FARMS also extends consultation services nationwide to States with legal active Medical Marijuana programs. For local consultations, OTHERSIDE FARMS offers a FREE initial consultation to patient's new or existing grow rooms and will make recommendations to a plan that enables optimal efficiency. Most growers will make the mistake of micro managing or gathering too much information from conflicting sources which creates confusion and instability.   OTHERSIDE FARMS has a superlative plan that we know works, and we are here to help patients succeed.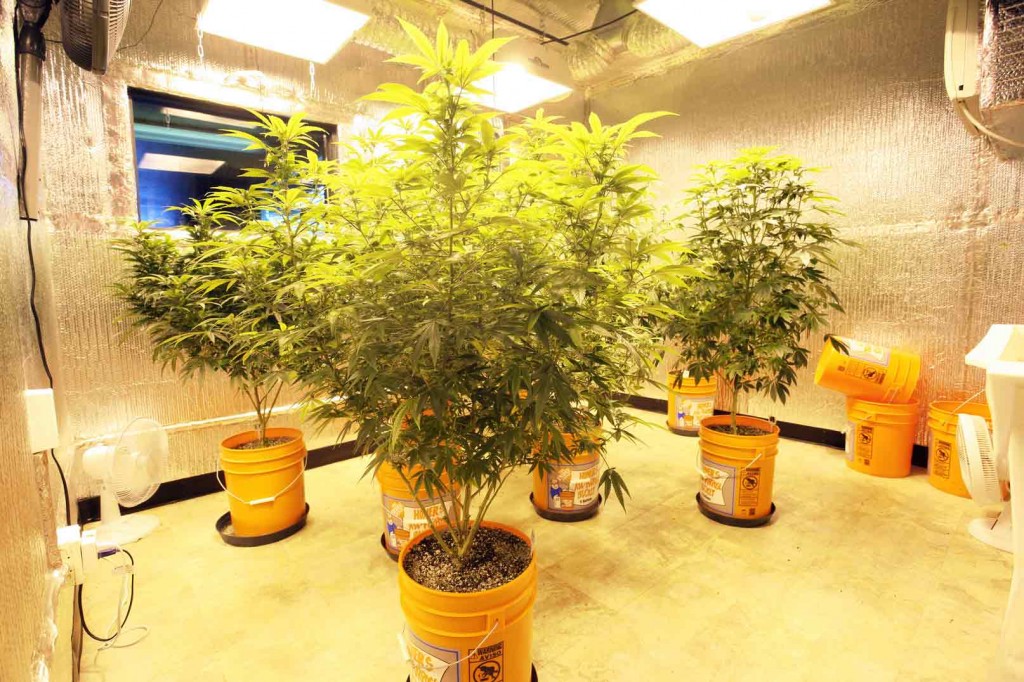 OTHERSIDE FARMS offers a full selection of grow consultation services to help patients in all areas the medical marijuana industry. OTHERSIDE FARMS offers grow consultation services to patient's new room (consists of us coming out for a site survey, and making our assessment and submitting a proposal) or existing grow room and we suggest a plan that enables optimal efficiency. Most growers make the mistake of micro managing or gathering too much information from conflicting sources which creates confusion an instability. OTHERSIDE FARMS has a superlative plan that works and we are here to help patients succeed.
In addition to our consultation services, OTHERSIDE FARMS also offers grow workshop classes which consists of a comprehensive session on growing medical marijuana for patient self reliance, teaching patients how to grow safely and effectively for themselves.
Design of new room/operation or redesign of existing grow operation
During our consultation we gather the pertinent information for the job ahead. Your design package consists of near to scale diagram of what you will need, where it needs to go and how it needs to be configured. We look at your power coming in and make sure you have what you need BEFORE you begin. Power is the number one concern for several reasons so you need to have enough available if you want to do it right. We compile a list of what you need, where to get it cheapest, and how much it will cost. The money and time saved will be more than you can imagine and is most definitely worth the cost of our design package.
Build out of grow room and installation of equipment
The proper installation of your equipment is essential to your grow rooms success. Many people make the mistake of buying all top of the line equipment but not setting it up properly and therefore wasting time and money. Little tricks of the trade are huge in any industry but especially ours, so the proper installation of your grow equipment is something that should be taken very seriously if you want to be have a successful operation.
Initial Setup
Once we've installed all of your equipment we will set up everything to run on the schedule you've picked. This is where most people make the biggest mistakes. Micro managing is your worst enemy.
Instruction
An explanation on how to use your equipment, why to do it the way we've set it up and when to make changes etc… are crucial to your success. This instruction is included with your install package.
Grow Room Maintenance and Management Course
We provide monthly maintenance packages in applicable areas or instruction on how to maintain your grow room. Maintenance and management is determined during our proposal phase. A breakdown of this course is as follows:
Cloning Advanced cloning techniques, mist prop. and deep water culture education
General Maintenance – Watering etc… How to water, assess and maintain propogation and vegetation area
EZ to Pre Veg Station and cleaning EZ Deep cleaning and preparation of EZ and Pre Veg units
Preening and Monitoring Daily plant maintenance and care taking techniques
Pre Veg 1 to Veg Room – Transplanting Transplanting hydro to soil, soil management
Bloom 1 Bloom part I – day by day
Bloom 2 Bloom part II – day by day
Harvesting Determining harvest time and harvesting techniques
Trimming Extensive instruction on mass and fine trimming techniques
Curing By product use and disposal and proper curing and storing methods
Further instruction/Check-ups/Pests or other problems
Additional consultation can be provided when needbe, based on agreement/contract.
Grow Consultations available to Medical Marijuana States
| | | |
| --- | --- | --- |
| 96727 Ahualoa (808) 96701 Aiea (808) 96703 Anahola (808) 96849 Bancorp (808) 96849 Bancorp Hawaii (808) 96846 Bank of Hawaii (808) 96843 Board of Water Supply (808) 96861 Camp H M Smith (808) 96861 Camp Smith (808) 96704 Captain Cook (808) 96848 East West Center (808) 96705 Eleele (808) 96706 Ewa Beach (808) 96847 First Hawaiian Bank (808) 96858 Fort Shafter (808) 96708 Haiku (808) 96710 Hakalau (808) 96712 Haleiwa (808) 96713 Hana (808) 96713 Hana Maui (808) 96714 Hanalei (808) 96715 Hanamaulu (808) 96716 Hanapepe (808) 96717 Hauula (808) 96718 Hawaii National Park (808) 96840 Hawaiian Electric Company (808) 96841 Hawaiian Telcom (808) 96719 Hawi (808) 96857 Helemano Mltry Res (808) 96857 Helemano Mltry Reservation (808) 96718 Hi National Park (808) 96853 Hickam AFB (808) 96720 Hilo (808) 96721 Hilo (808) 96725 Holualoa (808) 96801 HON (808) 96802 HON (808) 96803 HON (808) 96804 HON (808) 96805 HON (808) 96806 HON (808) 96807 HON (808) 96808 HON (808) 96809 HON (808) 96810 HON (808) 96811 HON (808) 96812 HON (808) 96813 HON (808) 96814 HON (808) 96815 HON (808) 96816 HON (808) 96817 HON (808) 96819 HON (808) 96820 HON (808) 96821 HON (808) 96822 HON (808) 96823 HON (808) 96824 HON (808) 96825 HON (808) 96826 HON (808) 96828 HON (808) 96830 HON (808) 96836 HON (808) 96837 HON (808) 96838 HON (808) 96839 HON (808) 96844 HON (808) 96848 HON (808) 96850 HON (808) 96726 Honaunau (808) 96801 Hono (808) 96802 Hono (808) 96803 Hono (808) 96804 Hono (808) 96805 Hono (808) 96806 Hono (808) 96807 Hono (808) 96808 Hono (808) 96809 Hono (808) 96810 Hono (808) | 96811 Hono (808) 96812 Hono (808) 96813 Hono (808) 96814 Hono (808) 96815 Hono (808) 96816 Hono (808) 96817 Hono (808) 96819 Hono (808) 96820 Hono (808) 96821 Hono (808) 96822 Hono (808) 96823 Hono (808) 96824 Hono (808) 96825 Hono (808) 96826 Hono (808) 96828 Hono (808) 96830 Hono (808) 96836 Hono (808) 96837 Hono (808) 96838 Hono (808) 96839 Hono (808) 96844 Hono (808) 96848 Hono (808) 96850 Hono (808) 96727 Honokaa (808) 96801 Honolulu (808) 96802 Honolulu (808) 96803 Honolulu (808) 96804 Honolulu (808) 96805 Honolulu (808) 96806 Honolulu (808) 96807 Honolulu (808) 96808 Honolulu (808) 96809 Honolulu (808) 96810 Honolulu (808) 96811 Honolulu (808) 96812 Honolulu (808) 96813 Honolulu (808) 96814 Honolulu (808) 96815 Honolulu (808) 96816 Honolulu (808) 96817 Honolulu (808) 96818 Honolulu (808) 96819 Honolulu (808) 96820 Honolulu (808) 96821 Honolulu (808) 96822 Honolulu (808) 96823 Honolulu (808) 96824 Honolulu (808) 96825 Honolulu (808) 96826 Honolulu (808) 96828 Honolulu (808) 96830 Honolulu (808) 96836 Honolulu (808) 96837 Honolulu (808) 96838 Honolulu (808) 96839 Honolulu (808) 96840 Honolulu (808) 96841 Honolulu (808) 96843 Honolulu (808) 96844 Honolulu (808) 96846 Honolulu (808) 96847 Honolulu (808) 96848 Honolulu (808) 96849 Honolulu (808) 96850 Honolulu (808) 96728 Honomu (808) 96729 Hoolehua (808) 96853 Jb Pearl Harbor Hickam (808) 96860 Jb Pearl Harbor Hickam (808) 96853 Jbphh (808) 96860 Jbphh (808) 96853 Joint Base Pearl Harbor Hickam (808) 96860 Joint Base Pearl Harbor Hickam (808) 96730 Kaaawa (808) 96731 Kahuku (808) 96732 Kahului (808) 96733 Kahului (808) 96734 Kailua (808) 96739 Kailua Kona (808) | 96740 Kailua Kona (808) 96745 Kailua Kona (808) 96707 Kalaeloa (808) 96741 Kalaheo (808) 96742 Kalaupapa (808) 96743 Kamuela (808) 96744 Kaneohe (808) 96746 Kapaa (808) 96755 Kapaau (808) 96707 Kapolei (808) 96709 Kapolei (808) 96747 Kaumakani (808) 96748 Kaunakakai (808) 96743 Kawaihae (808) 96749 Keaau (808) 96750 Kealakekua (808) 96751 Kealia (808) 96739 Keauhou (808) 96752 Kekaha (808) 96753 Kihei (808) 96754 Kilauea (808) 96756 Koloa (808) 96757 Kualapuu (808) 96790 Kula (808) 96759 Kunia (808) 96760 Kurtistown (808) 96761 Lahaina (808) 96767 Lahaina (808) 96762 Laie (808) 96763 Lanai City (808) 96764 Laupahoehoe (808) 96765 Lawai (808) 96715 Lihue (808) 96766 Lihue (808) 96707 Makakilo (808) 96768 Makawao (808) 96769 Makaweli (808) 96770 Maunaloa (808) 96863 Mcbh K Bay (808) 96863 Mcbh Kaneohe Bay (808) 96789 Mililani (808) 96771 Mountain View (808) 96772 Naalehu (808) 96792 Nanakuli (808) 96773 Ninole (808) 96704 Ocean View (808) 96737 Ocean View (808) 96774 Ookala (808) 96727 Paauhau (808) 96776 Paauilo (808) 96777 Pahala (808) 96778 Pahoa (808) 96779 Paia (808) 96780 Papaaloa (808) 96781 Papaikou (808) 96782 Pearl City (808) 96860 Pearl Harbor (808) 96860 Pearl Harbor Naval Base (808) 96783 Pepeekeo (808) 96722 Princeville (808) 96788 Pukalani (808) 96788 Pukalani Maui (808) 96784 Puunene (808) 96857 Schofield (808) 96857 Schofield Barracks (808) 96859 Tripler Amc (808) 96859 Tripler Army Medical Center (808) 96844 University of Hawaii (808) 96785 Volcano (808) 96786 Wahiawa (808) 96791 Waialua (808) 96792 Waianae (808) 96738 Waikoloa (808) 96753 Wailea (808) 96793 Wailuku (808) 96795 Waimanalo (808) 96796 Waimea (808) 96797 Waipahu (808) 96898 Wake Island (808) 96854 Wheeler AAF (808) 96854 Wheeler Army Airfield (808) |